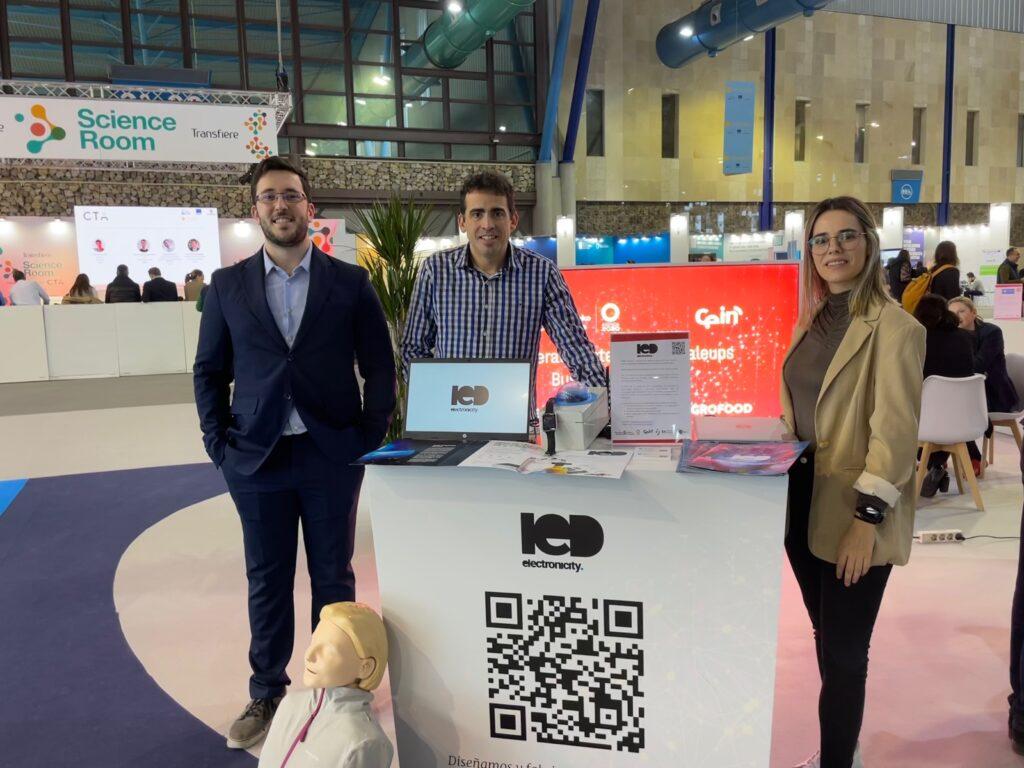 We talked about knowledge and technology at the Transfiere fair in Malaga
We have been present for three days at the Transfiere Fair in Malaga, the main R&D&I meeting in Southern Europe to share scientific and technological knowledge, promote innovation and connect science and business.
Our company has been one of the companies selected by the Government of Navarra to participate in its stand and share how we research and develop knowledge in IED Research&Technology, our business R&D&I Unit and origin of all our product innovations. Ibán Latasa, IED Research & Technology Manager, Unai Unamuno, Market Research, and Idoia Cerro, Engineering Department, showed the evolution of two of our projects: RCP+, a bracelet that guides people to correctly perform cardiopulmonary resuscitation; and a technology that detects, tracks and predicts the positioning of clouds in order to know the diffuse and direct radiation that a solar panel will receive.
During the fair, Iban Latasa took part in the talk 'Navarre's entrepreneurial and innovative ecosystem, among the European leaders in innovation'. As a representative of the Navarrese companies that contribute to fostering the culture of innovation in our community, Iban has delved into the innovative strategy of IED and how the close collaboration between universities, clusters, research centres, companies and public institutions allows the development of an innovation ecosystem in Navarra. In a talk moderated by Maria Sanz de Galdeano, Managing Director of CEIN, Ibán was accompanied by Uxue Itoiz, General Director of Industry, Energy and Strategic Projects S4, Mariano Oto, CEO of Nucaps, María Mena, CEO of Hyssogenix, and Xabier Aláez, CEO of Inbiot.
Navarre is currently one of only two Spanish regions to have received the "Innovative Notable" qualification from the European Union.
IED is part of the small group of companies that has a business R&D&I Unit in the SINAI, the Navarre R&D&I System of the @Government of Navarre.