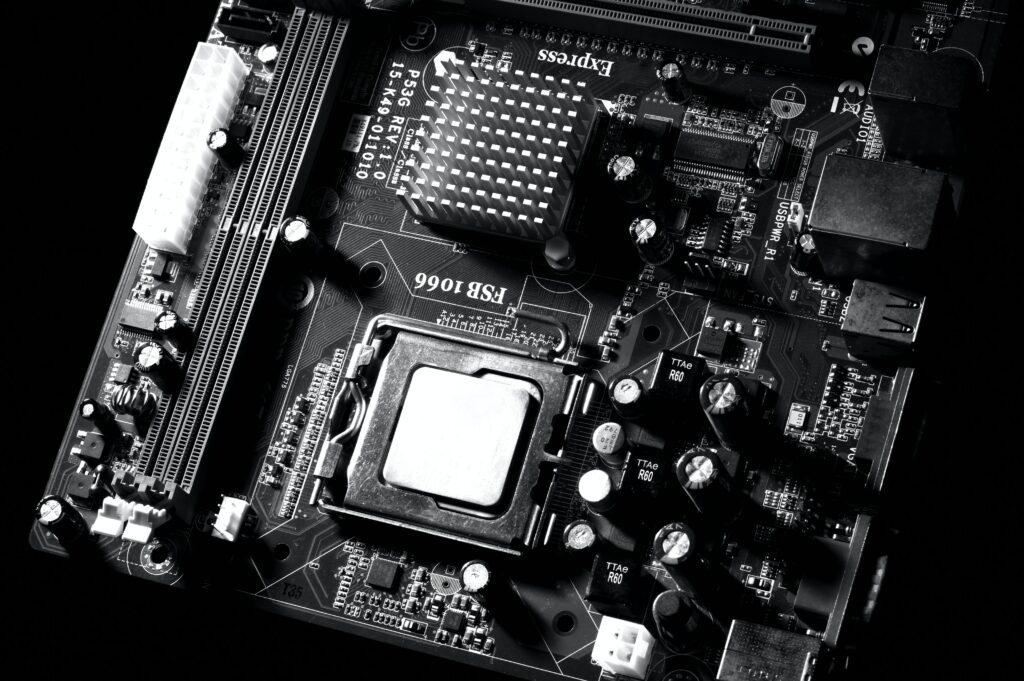 The electronic components crisis and its effects in a strategic sector in constant evolution
In March 2020 the world came to a halt, invaded by a pandemic that no one thought could happen. In December 2021, companies and individuals witness certain damages that we believe are collateral, but their origin is deeper. We refer to the electronic components crisis, and we tell you the IED strategy to remain efficient in this context.
The companies that operate in the electronic product markets have been among the most affected by what has been called the component crisis. Starting from the origin, the main raw material for electronic products is silicon, one of the most present in the earth's crust (25.6%) and with multiple industrial applications.
Silicon is a material that is used in many sectors. In electronics, it is a valid semiconductor for the creation of silicon wafers, also called "chips" or integrated circuits, which are used to manufacture electronic circuits. The chips are sandwiched in this material with micro or nanometric dimensions (thousandths or millionths of a millimeter), although the latest generation chips are getting smaller and more sophisticated. But this process requires a high capital investment (a new semiconductor factory involves an investment of between 1,000 and 10,000 million euros), and the lead time is around four years.
Rising prices and the current shortage of chips and other electronic products have a lot to do with the origin of the pandemic. On the one hand, as factories were closed for a time and transport was restricted, supply fell. On the other, and in parallel, demand rose in certain electronic products (for example, laptops, due to the increase in teleworking).
It might be thought that, after these first circumstantial effects, the problem would be solved in a short period of time. However, the reality today is that the growth in demand for chips is outpacing that of supply, and this is expected to be at least the next two years, as the sector restructures and supply increases.
When it comes to the increase in demand, there are multiple causes. Among the most relevant are the change in consumer habits towards electronic products such as mobiles, cryptocurrency mining, the pull of the automotive sector with the electric car, or the needs associated with new technologies with 5G. And everything indicates that the demand will continue to grow.
Let's see now how the offer will evolve. If we analyze at the business level which is the main chip producing companies, we see that among the top ten there are six Americans, two Koreans, one Japanese, and one Taiwanese. But if we analyze production by geographical area, we observe that Asia (mainly Korea, Taiwan, and China) has the largest world production and that it has displaced Europe, USA, and Japan in the last two decades.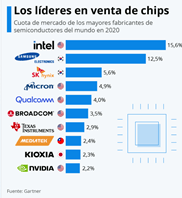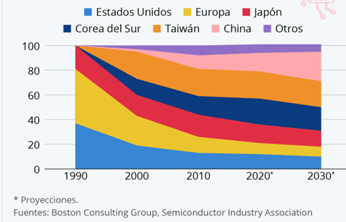 Speaking of countries, China started investing five years ago in chip factories. This year, between the months of January and July, the production of integrated circuits had increased by 47.3%. For its part, the European Union is already planning to produce its own chips and thus compete with Taiwan, South Korea, and the United States by manufacturing state-of-the-art semiconductors. Unlike China, which has been trying for years to develop its own semiconductor market with notable results in quantity, but still mediocre in quality, the EU is committed to making heavy investments by attracting firms such as the Taiwanese TSMC or the South Korean Samsung with favorable conditions.
Speaking at the business level, for some people it may be shocking to see Intel or Samsung in this list of companies that manufacture chips for third parties, but both give a lot of weight to this business area and, in the words of their executives, they will strengthen them more if fits. We found that technology giants such as Intel, Samsung, or Hyundai (to which SK Hynix belongs) made their commitment to the integration of these strategic components in advance, and with this not only today they have guaranteed supply, but they can increase their profits compared to the competition. Finally, there are other companies that, aware of their vulnerability, are starting their own factories, such as Apple or Sony.
At IED, we have been immersed in a whirlwind of competition for the last year to guarantee the supply of electronic components, and although we are small compared to the semiconductor giants, we have drawn up a strategy to guarantee supplies that are based on three pillars: forecasts, capacity. analysis of alternatives and collaborative work with suppliers and customers. Forecasts make life easier for our suppliers with batch manufacturing with the safe sale, and they assure us to a certain extent of production capacity. The constant engineering capacity to analyze possible alternative components allows us to continue operations without slowing down due to the lack of a specific component, since in many cases we are able to find another proposal, always after validation. And finally, working hand in hand with suppliers and clients, who to a greater or lesser extent suffer from the same situation, allows us to create trust and synergistic teamwork that guarantees that the resources spent are materialized for sale. It is not being easy, but we are struggling with the challenge of remaining efficient in this market rebalancing.